Cibersur.com
|
03/04/2023 12:22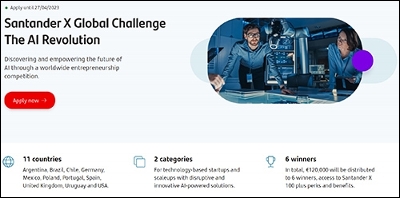 Banco Santander y Microsoft se unen a Oxentia Foundation en un nuevo reto global para emprendedores de 11 países, que busca soluciones innovadoras en el ámbito de la inteligencia artificial que generen un impacto positivo y ayuden a la sociedad a hacer frente a los retos que tiene por delante.
Santander X Global Challenge | The AI Revolution está dirigido a startups y scaleups de Alemania, Argentina, Brasil, Chile, EEUU, España, México, Portugal, Polonia, Reino Unido y Uruguay, que podrán inscribirse en el reto hasta el próximo 27 de abril.
Habrá seis proyectos ganadores, que recibirán 120.000 euros en premios: 30.000 euros para las tres startups vencedoras (10.000 euros cada una) y 90.000 euros para las tres mejores scaleups (30.000 euros para cada una). Adicionalmente, los equipos ganadores viajarán a Silicon Valley para asistir a la ceremonia de entrega de premios el 29 de junio.
Las empresas ganadoras tendrán acceso a Santander X 100, la exclusiva comunidad global de emprendimiento con los proyectos más destacados de Santander X, que les conecta con los recursos que necesitan para crecer: asesoramiento y formación, capital, clientes, talento y networking.
Además, recibirán mentoría exclusiva de expertos en inteligencia artificial por parte de Microsoft y la oportunidad de presentar sus proyectos a M12, el Venture Capital de la compañía.
Para Diego Calascibetta, director global de Emprendimiento y Open Innovation de Santander Universidades, "la Inteligencia Artificial es una revolución tecnológica que crece a pasos agigantados y, como en todo sector de vanguardia, la innovación es clave para asegurar un desarrollo que apunte hacia el progreso sostenible de la sociedad. Con este reto queremos apoyar y acompañar a las empresas de este sector que compartan nuestra visión de una tecnología destinada a estar muy presente en nuestras vidas mucho antes de lo que creíamos".
Jens Hansen, General Manager Data & AI de Microsoft EMEA, señala que "en Microsoft siempre hemos entendido la tecnología como un catalizador del progreso, y pensamos que la Inteligencia Artificial tendrá un impacto positivo y transformacional en nuestras vidas si se usa de manera responsable. Estamos comprometidos con la democratización del uso de la IA, y por eso estamos encantados de unirnos a Banco Santander en el Santander X Global Challenge | The AI Revolution".
Steve Cleverley, CEO de Oxentia Foundation, destaca que "explorar nuevas tecnologías apasionantes y ayudar a los emprendedores a abordar retos globales de forma innovadora es el núcleo de nuestro trabajo. Estamos encantados de colaborar con Banco Santander y Microsoft para lanzar este nuevo reto. La Inteligencia Artificial desempeña un papel cada vez más importante en nuestras vidas y estamos deseando aprender más sobre la mejor tecnología de vanguardia y las soluciones transformadoras de los candidatos".